Pitanga
Following up on his 2016 Latin Grammy Nomination for "Song Of The Year," Finbury brings forth nine new Brazilian originals featuring once again the exquisite vocals of Marcella Camargo.
Pitanga, from songwriter John Finbury and featuring vocalist Marcella Camargo, is the second album of its kind: original songs from maestro Finbury performed by songstress Camargo.
With songs composed by Finbury, Ned Claflin, and Patty Brayden, this album provides a panoramic of Brazilian music forms and traditions: samba-reggae, bossa nova, and Latin jazz. Sung in Portuguese and English, the tunes convey a visceral authenticity, borne of Brazilian music traditions and inspired by great artists like Antonio Carlos Jobim. At the same time, the music hews to the songwriter's own voice, furnishing a fresh and intrepid expression. Not only is the songwriting first class, but the band is composed of veritable all-stars in their own right: Tim Ray, Oscar Stagnaro, Mark Walker, Ricardo Monzon, Eduardo Mercuri, Norman Zocher, Eugene Friesen, and the late Roberto Cassan.
The album opens with the title song, Pitanga; the king of the Brazilian fruits. The flavors of the fruit are captured in the samba-reggae Abaixo rhythms and melodies of this Carnival tune. Next up is A Feathered Thing, a beautiful Jobim inspired bossa nova. The lyrics for this composition are written by Patty Brayden, inspired by wordsmiths Robert Frost, Emily Dickinson, and The Bard. Coração Me Diga is a more pensive track with jazz-infused harmonies; Entre Pedacinhos opens with a gorgeous vocal and piano jazz waltz duet which transitions elegantly into a bossa.
Paraty is named for the beautifully preserved Portuguese colonial coastal town near Rio de Janiero; bandits and lovers often steal away in its quarters. This upbeat, danceable tune reflects the lush history and life in these celebrated vistas. Dia Ideal, with Portuguese lyrics by Claflin, reflects the more intimate and emotional expressive abilities of the artists. Meu Velho Friend appeared as an instrumental on the group's last critically acclaimed album, Imaginário (2016 Latin Grammy nomination for Song of The Year-"A Chama Verde"); here, it's given fresh life with charming lyrics and a skillfully patterned vocal line. There Among The Pieces artfully showcases the band's versatility: written with Willie Nelson in mind, Camargo proves to be not only a tantalizing Brazilian singer but an adept country singer as well. The album closes with A Great Believer In Luck, a touching homage to Finbury's father – a Naval officer who participated in (and lived through) eleven marine landings in the South Pacific during World War II.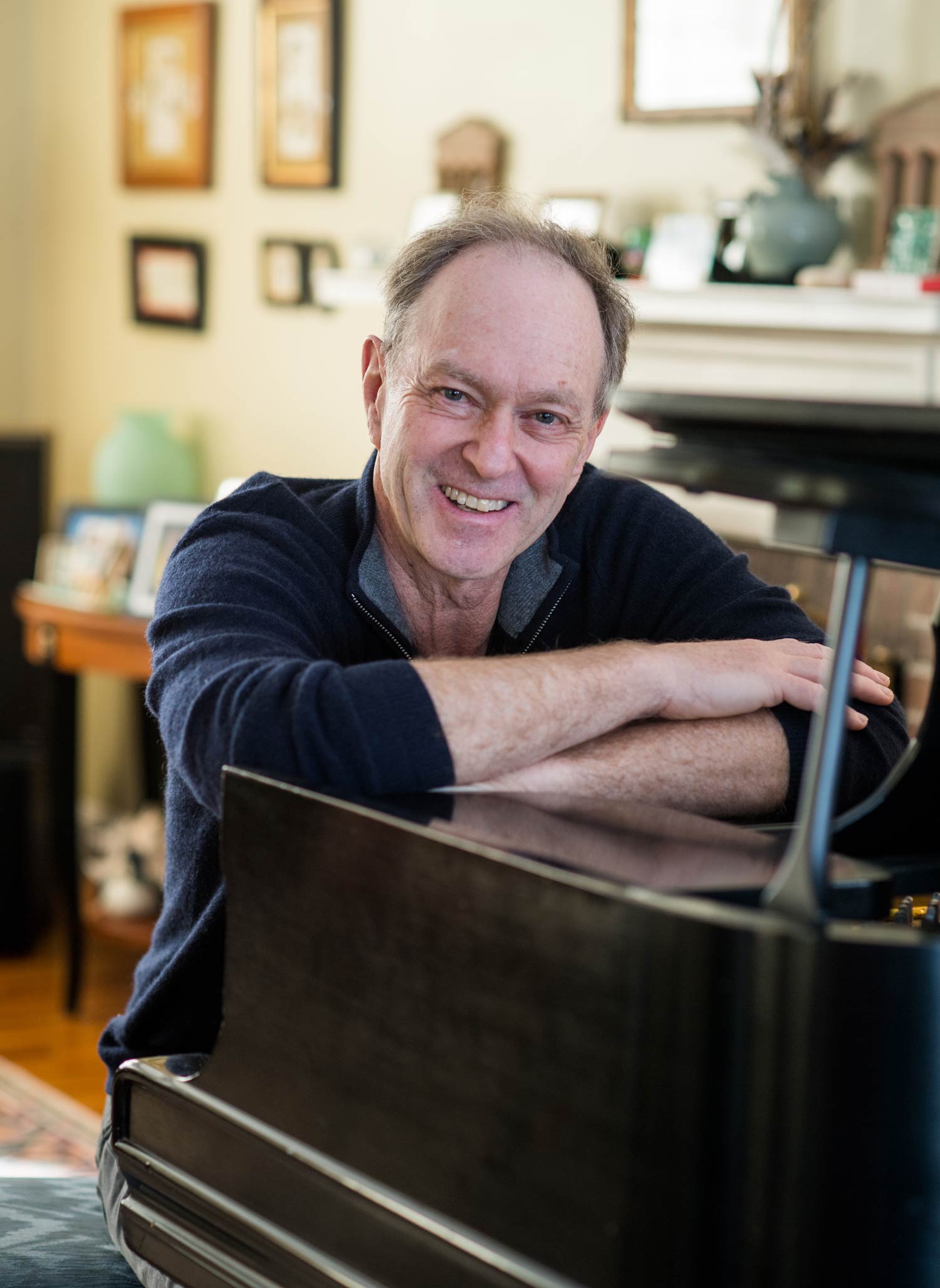 John Finbury is a Grammy and Latin Grammy-nominated composer based in Andover, Massachusetts.
His earliest music education and influence came from his father, Herb, a musician (violin) and one of the first jazz composition students at the Schillinger School in Boston, which would later become Berklee College Of Music. In his teenage years, John played rock & roll drums, most notably at the "The Bitter End" in New York City. In college, John studied classical piano and music theory and composition at the Longy School of Music in Cambridge and Boston University.
Seeking another connection to music, John ran a legendary movie house and concert hall in Salem, MA, hosting performances by BB King, Bonnie Raitt, Richard Thompson, REM, Eric Burton and The Animals, and Pat Metheny, among many others. John was a practicing trial attorney for 37 years and retired in 2023 to devote himself full-time to music composition and recording.
John married his lifelong muse Patty Brayden, who sings and is a frequent collaborator as a lyricist; they have often performed locally as part of the Jazz Sextet "Day For Night". John's old friend Ned Claflin (who has also worked with Madonna and Martin Sexton) is another important associate in the lyrics department.
In what he recognizes as his first professional commission as a composer, in 1979, John wrote and recorded a soundtrack for "Portraits from the 2 O'Clock Lounge", a TV documentary by Fred Simon produced for WGBH Boston. The R&B and pop songs he wrote and recorded in the early 80s have garnered current critical attention, with many being acquired in 2014 by Fervor Records. This renewed interest in his music sparked a new era in John's composing focused on his longstanding interest in the beautiful music of Brazil.
In 2014 John released an EP of four original songs of Brazilian Jazz called "The Green Flash". All four songs were nominated for The American Songwriting Awards in 2015, with "SambaDan" winning the award for Best Instrumental.
2015 saw the release of "Imaginário," an album consisting of 11 original songs of Brazilian jazz featuring vocalist Marcella Camargo, accompanied by some of Boston's finest musicians: Fernando Huergo, Mark Walker, Tim Ray, Claudio Ragazzi, Roberto Cassan, and Ricardo Monzon.
In 2016, Finbury shocked the Latin Music scene when a cut from "Imaginário" called "A Chama Verde," was nominated for a Latin Grammy for "Song Of The Year."
In 2017, John released his second Brazilian jazz-infused album, "Pitanga", which received critical acclaim.
Finbury's album "Sorte!", in collaboration with Brazilian singer-songwriter Thalma de Freitas was released in May 2019. With music by John and lyrics and vocals by Thalma, they recorded six original songs at The Powerstation Studios in New York City, produced by Latin Grammy winner Emilio D. Miler, who assembled an All-Star band featuring Vitor Gonçalves, Chico Pinheiro, Duduka de Fonseca, John Patitucci, Rogerio Boccato and the legendary Airto Moreira. On November 21, 2019, "Sorte!" Was nominated for a 2020 Grammy Award for Best Latin Jazz Album.
In May 2020, John released two new albums of original music: American Nocturnes- Final Days Of July" presenting intimate chamber jazz instrumental music uniquely arranged for piano, cello, guitar, accordion, and harmonica, and a new Latin Jazz album, QUATRO, featuring Magos Herrera, Chano Domínguez, John Patitucci, and Antonio Sánchez.
In 2021, following news of the death of Chick Corea, John and Thalma de Freitas composed and recorded the song "Ring The Bells" in tribute to the great jazz master.
During the pandemic, John began an artistic collaboration with French jazz singer extraordinaire Camille Bertault. They recorded and released two singles: "Look At What A Mess You Made Of Me" in which Camille teamed up with bassist Christian McBride, and "Boulevard" with lyrics by Camille recorded with organist Larry Gouldings and Billy Martin on drums.
2022 sees the release of three original instrumental Brazilian jazz compositions recorded in São Paulo Brazil by native masters Mestrinho on accordion, Michael Pipoquinho on bass, Cainã Cavalcante on guitars, Celso de Almeida on drums, and Leo Rodrigues on percussion.
Also in 2022, a renewed musical collaboration between John and jazz singer/lyricist Magos Herrera began with the release of their song "That Was Then," featuring harpist Kristi Shade, cellist Hamilton Berry, and Julien Labro on Bandoneon, "¡Por Ennio!" with PUBLIQuartet, and "Bastille Day" featuring the extraordinary pianist Dan Tepfer, Hamilton Berry, and percussionist Rogerio Boccato.