Chão De Nuvem
Music by John and lyrics by Bruna, describes Bruna's breathtaking journey, from setting her sights on a career in music, to seeing her wishes come true in abundance not long ago in her home country, and now just a step away from taking the world by storm.
Every music maker -indeed, anyone with a goal- can relate to Bruna's dreams and ambitions, and find hope in how John's music continues to reach new audiences both at home and around the world.
Chão De Nuvem Credits
Music By John Finbury
Featuring
Lyrics by Bruna Black
Vocals – Bruna Black
Vitor Gonçalves – Accordion & Rhodes
Chico Pinheiro – Guitar
John Patitucci – Bass
Duduka Da Fonseca – Drums
Leo Rodrigues – Percussion
Vinicinho – Percussion
Caue Silva – Percission
Back Ground Vocals
Vitor Gonçalves
Duduka Da Fonseca
Rubens Oliveira
André Maia Lima
Zuri Oliveira Santos
Beth Scott
Omisha Chaitanya
John Finbury
Ari Lavigna
Emilio D. Miler
Bruna Black
Produced by Emilio D. Miler and John Finbury
Recorded by Ari Lavigna at Power Station At Berklee New York City
Mixed by Ari Lavigna at Nõmade Mix, Buenos Aires
Mastered by Carlos Freitas at Classic Master USA, Weston, FL
Assistant Recording Engineer – Neal Shaw
Second Assistant Engineer – Beth Scott
Chão De Nuvem – Lyrics by Bruna Black
Chão De Nuvem
O chão de nuvem
Infinito bem ali
Pairando alto
E com medo de cair
Vou confiar
Foco
Pois o que era sonho…
Agora é realidade a cumprir
Coragem pra colher o que plantei
E enfim
Vou confiar
Deixar tudo então fluir
Que lindo é viver de alcançar o céu
E projetar futuro com mais expansão
Sei que mereço
Pois um dia tive fé
E defendi meu voo
Com o coração
Determinadamente
Batendo asas no real
Da capo*
Sim esse é o presente,
Sim eu recebo e agradeço
O chão de nuvem
Infinito bem aqui.
The Cloud Floor
the cloud floor
infinity right there
hovering high
And scared of falling
I will trust
Focus
For what was a dream…
Now it's reality to fulfill
Courage to reap what I sowed
And finally
I will trust
And let it all flow
How beautiful it is to live to reach the sky
And project future of further growth
I know I deserved it
For one day I had faith
And I defended my flight
With all my heart
determinedly
spreading my wings at last
If this is my present,
I shall accept it with gratitude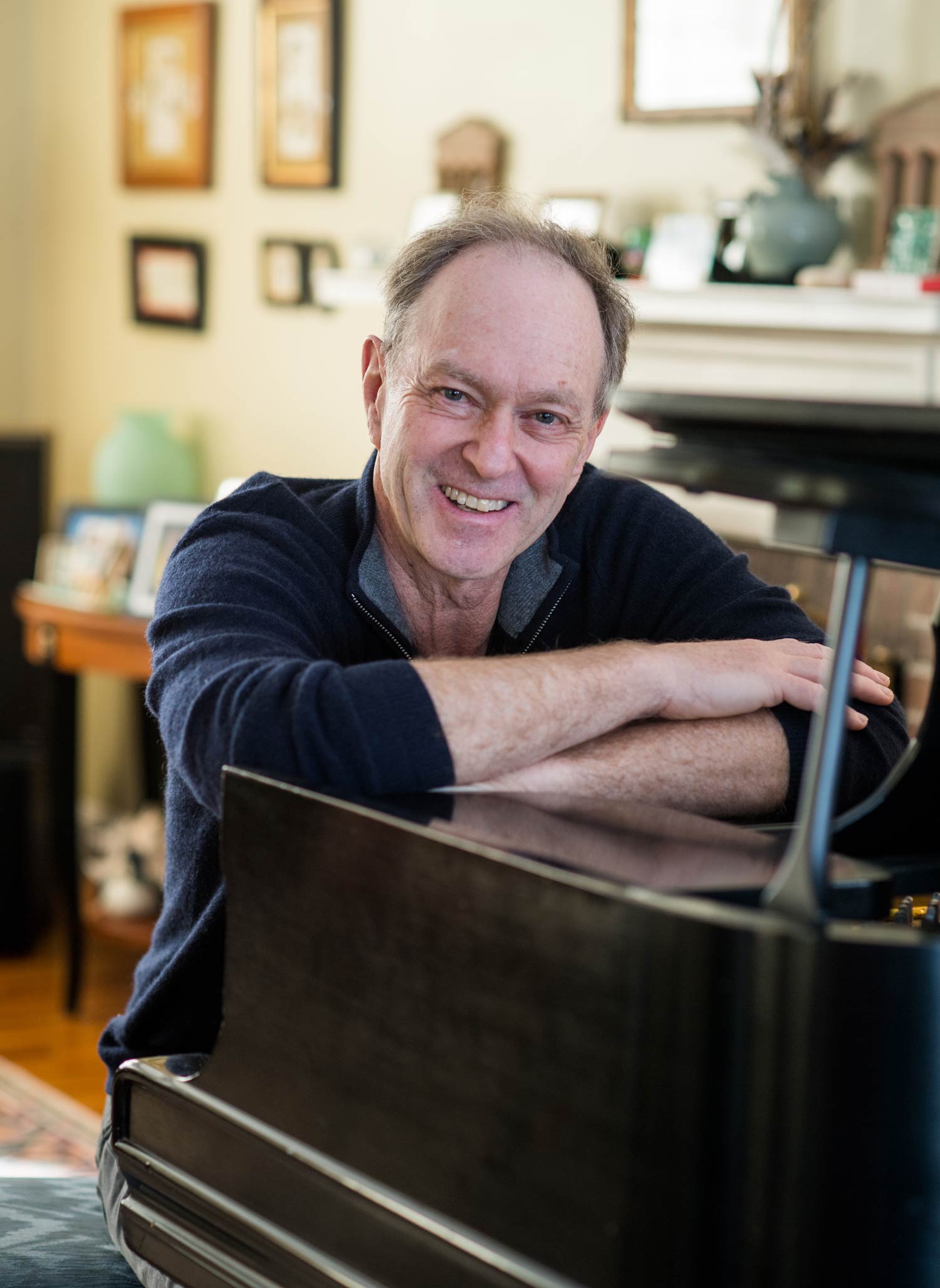 John Finbury is a Grammy and Latin Grammy-nominated composer based in Andover, Massachusetts.
His earliest music education and influence came from his father, Herb, a musician (violin) and one of the first jazz composition students at the Schillinger School in Boston, which would later become Berklee College Of Music. In his teenage years, John played rock & roll drums, most notably at the "The Bitter End" in New York City. In college, John studied classical piano and music theory and composition at the Longy School of Music in Cambridge and Boston University.
Seeking another connection to music, John ran a legendary movie house and concert hall in Salem, MA, hosting performances by BB King, Bonnie Raitt, Richard Thompson, REM, Eric Burton and The Animals, and Pat Metheny, among many others. John was a practicing trial attorney for 37 years and retired in 2023 to devote himself full-time to music composition and recording.
John married his lifelong muse Patty Brayden, who sings and is a frequent collaborator as a lyricist; they have often performed locally as part of the Jazz Sextet "Day For Night". John's old friend Ned Claflin (who has also worked with Madonna and Martin Sexton) is another important associate in the lyrics department.
In what he recognizes as his first professional commission as a composer, in 1979, John wrote and recorded a soundtrack for "Portraits from the 2 O'Clock Lounge", a TV documentary by Fred Simon produced for WGBH Boston. The R&B and pop songs he wrote and recorded in the early 80s have garnered current critical attention, with many being acquired in 2014 by Fervor Records. This renewed interest in his music sparked a new era in John's composing focused on his longstanding interest in the beautiful music of Brazil.
In 2014 John released an EP of four original songs of Brazilian Jazz called "The Green Flash". All four songs were nominated for The American Songwriting Awards in 2015, with "SambaDan" winning the award for Best Instrumental.
2015 saw the release of "Imaginário," an album consisting of 11 original songs of Brazilian jazz featuring vocalist Marcella Camargo, accompanied by some of Boston's finest musicians: Fernando Huergo, Mark Walker, Tim Ray, Claudio Ragazzi, Roberto Cassan, and Ricardo Monzon.
In 2016, Finbury shocked the Latin Music scene when a cut from "Imaginário" called "A Chama Verde," was nominated for a Latin Grammy for "Song Of The Year."
In 2017, John released his second Brazilian jazz-infused album, "Pitanga", which received critical acclaim.
Finbury's album "Sorte!", in collaboration with Brazilian singer-songwriter Thalma de Freitas was released in May 2019. With music by John and lyrics and vocals by Thalma, they recorded six original songs at The Powerstation Studios in New York City, produced by Latin Grammy winner Emilio D. Miler, who assembled an All-Star band featuring Vitor Gonçalves, Chico Pinheiro, Duduka de Fonseca, John Patitucci, Rogerio Boccato and the legendary Airto Moreira. On November 21, 2019, "Sorte!" Was nominated for a 2020 Grammy Award for Best Latin Jazz Album.
In May 2020, John released two new albums of original music: American Nocturnes- Final Days Of July" presenting intimate chamber jazz instrumental music uniquely arranged for piano, cello, guitar, accordion, and harmonica, and a new Latin Jazz album, QUATRO, featuring Magos Herrera, Chano Domínguez, John Patitucci, and Antonio Sánchez.
In 2021, following news of the death of Chick Corea, John and Thalma de Freitas composed and recorded the song "Ring The Bells" in tribute to the great jazz master.
During the pandemic, John began an artistic collaboration with French jazz singer extraordinaire Camille Bertault. They recorded and released two singles: "Look At What A Mess You Made Of Me" in which Camille teamed up with bassist Christian McBride, and "Boulevard" with lyrics by Camille recorded with organist Larry Gouldings and Billy Martin on drums.
2022 sees the release of three original instrumental Brazilian jazz compositions recorded in São Paulo Brazil by native masters Mestrinho on accordion, Michael Pipoquinho on bass, Cainã Cavalcante on guitars, Celso de Almeida on drums, and Leo Rodrigues on percussion.
Also in 2022, a renewed musical collaboration between John and jazz singer/lyricist Magos Herrera began with the release of their song "That Was Then," featuring harpist Kristi Shade, cellist Hamilton Berry, and Julien Labro on Bandoneon, "¡Por Ennio!" with PUBLIQuartet, and "Bastille Day" featuring the extraordinary pianist Dan Tepfer, Hamilton Berry, and percussionist Rogerio Boccato.