FYC Best Arrangement, Instruments and Vocals
Look at What a Mess You Made Of Me
"Look At What A Mess You Made Of Me" is the first single to emerge from the artistic collaboration between French Jazz prodigy Camille Bertault and Grammy and Latin Grammy nominated composer John Finbury.
With lyrics by Ned Claflin, Patty Brayden and the composer, this music features Finbury's blend of Jazz and Vaudeville traditions with a nod to the "Roaring 20s", past and present. The song needed a singer who could bring just the right playful approach to interpretation, which led the composer and his producer Emilio D. Miler to reach out to Camille Bertault, who quickly embraced the project.
Camille has startled the Jazz world with her vocal prowess and unmatched improvisational skills, as well as her ability to write lyrics to some of the most iconic jazz solos in history. She has released three albums that showcase her interpretative talents with music and lyrics of her own.
Given the careful studio protocols in pandemic times, the artists and producers sought a simple instrumentation, so "Look At What A Mess You Made Of Me" became a voice and bass duet. They entrusted the bass chair to Christian McBride, who achieved a stunning balance of brawny playing with a sense of humor.
Look at What a Mess You Made Of Me Credits
 Music by John Finbury
Lyrics by Ned Claflin, Patty Brayden & John Finbury
Vocals Camille Bertault
Bass Christian McBride
Produced By Emilio D. Miler & John Finbury
Mix Engineer Ari Lavigna
Mastering Engineer Alan Silverman
Cover Art – Patrick McDonough
Creative Direction – Patrick McDonough
Graphic Design – Michael Gurley
LOOK AT WHAT A MESS YOU MADE OF ME
Music by John Finbury
Lyrics by Ned Claflin, Patty Brayden & John Finbury
Look at what a mess you made of me
I'm a crossed-eye, rambling wreck
You made me fall in love with you
and really made a mess of me
Look at what a mess you made of me
Love took us for a spin
We went so fast, you made a pass
and really made a mess of me
Your eyes just drive me crazy and,
Your voice it makes me smile
Your shoulders, your countenance, etcetera
You just drive me wild, oh
Look at what a mess you made of me
My buttons are all undone
You made me fall in love with you
and really made a mess of me
Look at what a mess you made of me
My life is on the bedroom floor
I'm all apart, and half-way crazed
for every bit of hell you raised
I love you but I'm still amazed
What a horrible, beautiful,
mess you made of me.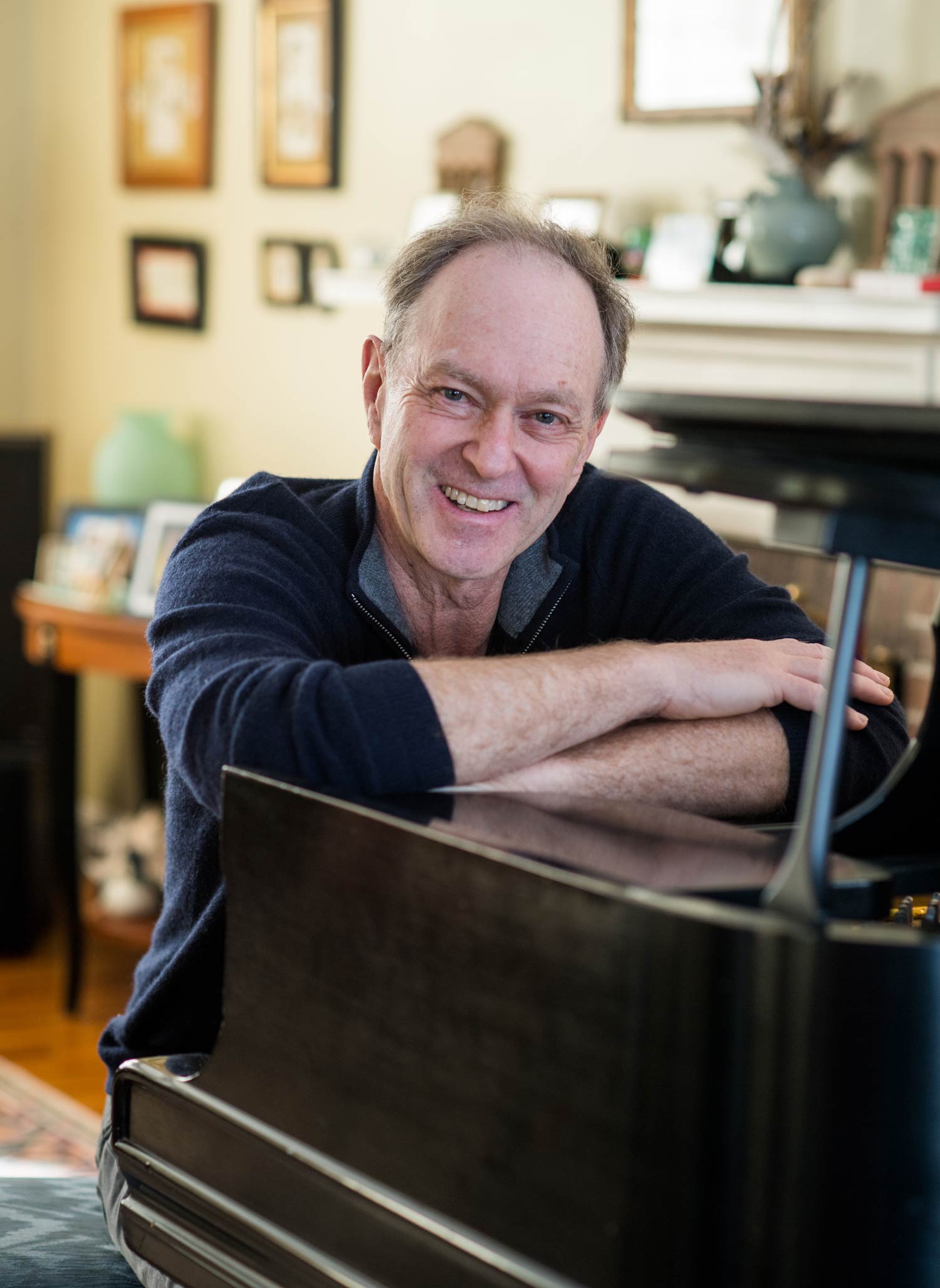 John Finbury is a Grammy and Latin Grammy-nominated composer based in Andover Massachusetts.
His earliest music education and influence came from his father Herb, a musician (violin) and one of the first jazz composition students at the Schillinger School in Boston, which would later become Berklee College Of Music. In his teenage years, John played rock & roll drums, most notably at the "The Bitter End" in New York City. In college, John studied classical piano and music theory and composition at the Longy School of Music in Cambridge and Boston University.
Seeking another connection to music, John ran a legendary movie house and concert hall in Salem, MA, hosting performances by BB King, Bonnie Raitt, Richard Thompson, REM, Eric Burton and The Animals, and Pat Metheny, among many others. In a parallel life, John has been a practicing attorney for 35 years, though you'll never hear him refer to his law practice as a "day job", but rather his other "profession."
John married his lifelong muse Patty Brayden, who sings and is a frequent collaborator as a lyricist; they have often performed locally as part of the Jazz Sextet "Day For Night". John's old friend Ned Claflin (who has also worked with Madonna and Martin Sexton) is another important associate in the lyrics department.
In what he recognizes as his first professional commission as a composer, in 1979 John wrote and recorded a soundtrack for "Portraits from the 2 O'Clock Lounge", a TV documentary by Fred Simon produced for WGBH Boston. The R&B and pop songs he wrote and recorded in the early 80s have garnered current critical attention, with many being acquired in 2014 by Fervor Records. This renewed interest in his music sparked a new era in John's composing focused on his longstanding interest in the beautiful music of Brazil.
In October 2014 John released an EP of four original songs of Brazilian Jazz called "The Green Flash". All four songs were nominated for The American Songwriting Awards in 2015, with "SambaDan" winning the award for Best Instrumental.
2015 saw the release of "Imaginário," an album consisting of 11 original songs of Brazilian jazz featuring vocalist Marcella Camargo, accompanied by some of Boston's finest musicians, including longtime members of Paquito D'Rivera's band Oscar Stagnaro and Mark Walker, Tim Ray, and Grammy-winning guitarist Claudio Ragazzi.
In 2016, Finbury shocked the Latin Music scene when a cut from "Imaginário" called "A Chama Verde," was nominated for a Latin Grammy for "Song Of The Year."
In 2017, John released his second Brazilian jazz-infused album "Pitanga" with the same lineup, which received critical acclaim.
Finbury's album "Sorte!", in collaboration with Brazilian singer-songwriter Thalma de Freitas was released in May 2019. With music by John and lyrics and vocals by Thalma, they recorded six original songs at The Powerstation Studios in New York City, produced by Latin Grammy winner Emilio D. Miler, who assembled an All-Star band featuring Vitor Gonçalves, Chico Pinheiro, Duduka de Fonseca, John Patitucci, Rogerio Boccato and the legendary Airto Moreira. On November 21, 2019, "Sorte!" Was nominated for a 2020 Grammy Award for Best Latin Jazz Album.
In May 2020, John released two new albums of original music: American Nocturnes- Final Days Of July" presenting intimate chamber jazz instrumental music uniquely arranged for piano, cello, guitar, accordion, and harmonica, and a new Latin Jazz album, QUATRO, featuring Magos Herrera, Chano Domínguez, John Patitucci, and Antonio Sánchez.
In 2021, following news of the death of Chick Corea, John and Thalma de Freitas composed and recorded the song "Ring The Bells" in tribute to the great jazz master.
During the pandemic, John began an artistic collaboration with French jazz singer extraordinaire, Camille Bertault. They recorded two singles: "Look At What A Mess You Made Of Me" in which  Camille teamed up with bassist Christian McBride (released 9/1/2021) and "Boulevard" with lyrics by Camille recorded with organist Larry Gouldings and Billy Martin on drums (release date 10/1/2021).